How To Stop A Dog Pulling On Leash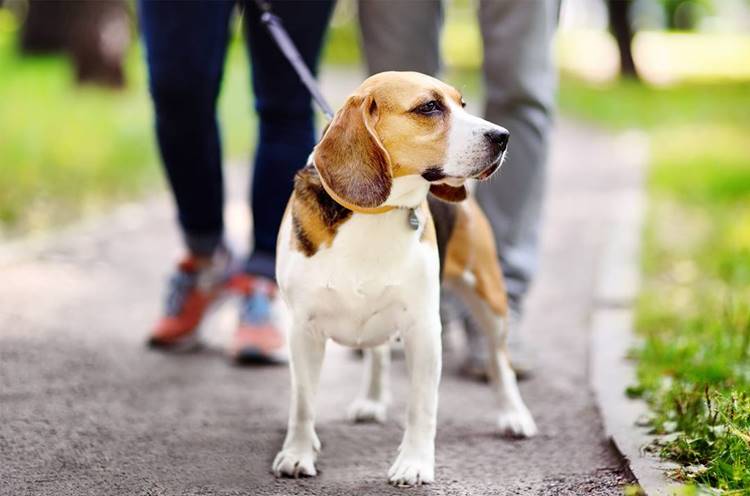 From the first moment we brought out our first dog home, we faced some tough challenges.
Either because of their history or just due to their personalities, our dogs came with their own issues and we were just way too inexperienced to help them.
From all the issues that needed to be addressed, the worst was, by far, walking on a leash.
Why Dogs Struggle To Walk On A Leash
Walking nicely on a leash is not an instinctive behavior for any dog.
They have a faster pace and their need to smell everything they see means they have their own walking agenda.
Also, they feel restrained.
The trick here is getting them, not only used to that but also to accept it.
Either because the dog is old, too big, or just set in his ways, it may seem impossible to train dogs to walk on a leash comfortably.
But we know for a fact it is not only possible but even simple to achieve.
Dogs learn differently than humans and if you understand how their mind works, you can solve MOST dog behavior issues.
It Was HELL Walking Our Dogs
Dobby was so scared he'd try to run every time he heard a noise or saw a leaf falling in his direction, not to mention other dogs.
His fear along with his lack of training turned our daily walk into a hellish experience because he would pull constantly.
It even caused us to require physical therapy for our shoulders from all the pulling combined with his weight.
As for the Jack Russells, Tommy and Coco, they were more than a handful when they were just small puppies!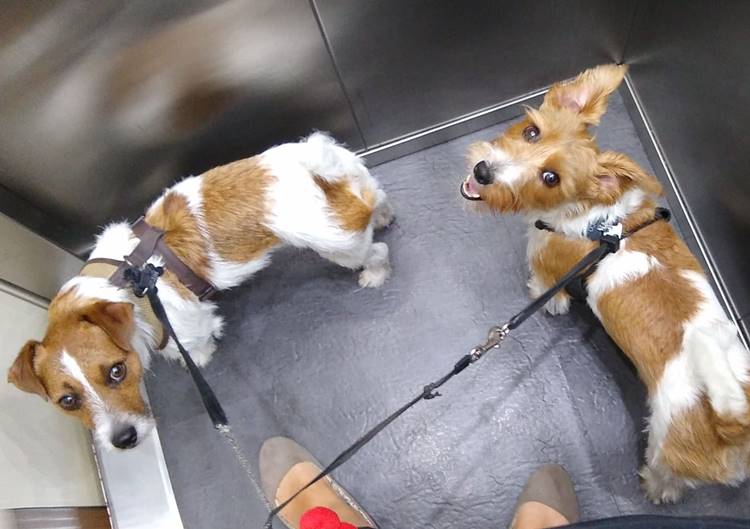 Coco (on the right) just did her own thing: she wanted to run, chase leaves, smell everything and go everywhere she pleased.
She completely forgot the person holding the leash on the other end.
And Tommy (on the left), which today is by far our most well-trained dog, used to be leash-reactive, meaning he'd get aggressive to other dogs when on a leash.
We don't really know how he made it to adulthood!
So, all of our three dogs had deep-rooted issues with walking on a leash.
One was too scared, the other too curious and the third would pull to confront any dog that crossed his path.
We solved leash pulling by following just one training technique we picked up from an online dog training course that changed our lives.
How We Put An End To Leash Pulling
No tip from friends, our vet, or Youtube videos worked, if anything it only made it worse.
Failing made us anxious and desperate and our dogs confused.
We needed to do the work ourselves but required guidance to show us the way.
Until one day, a dear friend told us about Adrienne Farricelli and how successful working with her to solve her puppy's issues had been.
Then we found out she has an online dog training course available!
AND we decided to give it a try!
We quickly realized her training could be applied to pretty much any behavior issue, like barking, jumping, potty training, etc.
Best yet, all our dogs responded brilliantly to it, regardless of size, age, or personality.
How To Train Your Dog To Stop Pulling On Leash
It may sound like an impossible challenge to stop your dog from pulling on a leash. We thought so too.
But by doing it the way we learn with Adrienne's training course, it's actually simpler than it looks.
Just keep reading and decide for yourself!
How Can You Teach Your Dog ANYTHING!
To train your dog, you need to understand how his mind works, otherwise, you'll fail.
Once you get the way he learns, you'll be able to teach him just about anything.
Trainers charge a lot of money to tell you what to do but don't do the work for you. This means that you'll spend $50/hour, having the results depend solely on you.
We wanted to be able to learn how to train our dogs to do what we wanted (and what we didn't want them to do) without breaking the bank.
It seemed like an impossible mission at first, but a friend that had gone through the same problem had the answer all along.
The Solution Is Simple: Get An Online Trainer
We did it and we highly recommend it!
It helps tremendously that Adrienne is a CPDT-KA certified dog trainer with over a decade of experience.
It has allowed her to study dogs, really understand them, and get to the bottom of their issues and behavior before creating the course.
It was like this online dog training course had been designed specifically with our dogs in mind.
We were afraid we wouldn't be able to follow this course, but it's actually divided into Beginner, Intermediate and Advanced levels.
This allowed us to start at the very beginning (a very good place to start!) and work our way up from there.
#howtostopadogpullingonleash #dogtraining #
dogtrainingnearme #
servicedogtraining #
dogobediencetraining #
dogtrainingclasses #onlinedogtraining #dogagilitytraining #aggressivedogtraining #dogpottytraining #sitmeanssitdogtraining #housetrainingadog #dogtrainingtips #dogbehaviortraining